Operating lease: how it works and why it is convenient
In the modern business world, the password is often the same: keeping costs down.
In this scenario of a deep national and international economic crisis, it is difficult to support the costs required to try and increase your business.
Ideas and entrepreneurial capacities often clash with management and IT equipment costs, which, especially for small companies, are truly very hard to bear.
In the last years, to meet this specific need, the so-called operating lease has been developed, which grants companies access to certain infrastructures and technologies owned by others, paying only for their use, at much lower costs than purchasing them in bulk.
This is a substantial change in the way we sell technology.
Let's see how the different aspects of an operating lease work.
What is an operating lease of instrumental assets
An operating lease, also called renting of instrumental assets, consists in renting an asset or a service which remains the property of the leasing company, and which the purchaser can use for the times and in the ways established by a contract.

Buying the asset at the end of the lease is not possible; however, through suitable contractual updates, certain conditions can be modified, such as the service quality or updates to the technology used.
There can also be different payment methods, based on the user's needs, by planning the budget accordingly.
In the business that revolves around the use of IT systems, this option has become very popular over the last years, as it is very convenient for companies, which actually pay according to their usage requirements, and save on physical infrastructures.
And not just that. Savings also extend to technology installation and maintenance costs, which entail training dedicated resources.
The operating lease of instrumental assets also brings manytax advantages. Sure enough, there are no capital increases leading to Irap and Ires charges. The fees paid for an operating lease on instrumental assets are deducted on the balance sheet assets, rather than accrued, and they can be subtracted for Ires purposes, without any minimum duration constraint.
What technologies are valid for an operating lease
The operating lease of instrumental assets finds its best, more natural application in the IT and communications world, where purchasing a physical infrastructure, at hardware and system level, can be really costly, especially for a small-medium sized company.
Thus, there are operating lease services for PCs, notebooks and devices such as printers, monitors, copy machines and scanners.
Concerning technological infrastructure, an operating lease may be obtained also for servers or networking devices.
And not just hardware. An operating lease can also apply to certain software, and often the service includes training and support, in order to enjoy the product to the fullest.
Lastly, consumables, such as toners, for which there are contracts that include, apart from their supply, also their disposal, based on actual item usage projections by the company.
The benefits of an operating lease for end users
For end users, an operating leasing solution is absolutely cost-effective.
They can have access to always updated and performing IT equipment, often at lower prices compared to their purchase, without the additional training and maintenance costs for the technology used.
And not just that: an operating lease allows end users to choose between a wide range of products and services, among leading market brands.
End users can enjoy great flexibility, and find the right solution for their business requirements, based on their budget.

Another advantage of this kind of option is the fact of not having to bear any cost to dispose of the technology, once the contract ends. In the case of a lease on a software service, and consequent use of sensitive data, the operating lease fee also includes the cancellation of such data, according to the GDPR.
Support on the devices or services leased is always ensured, and also the option of additional device damage or theft policies.
For end users, the contract type is very simple. The general conditions are agreed with the retailer, based on your needs, and then you may order just the products you need, with constantly updated technologies.
The benefits of an operating lease for resellers
The operating lease is very advantageous also for technology resellers.
Trusting a valued supplier, the reseller has access to a wide range of services, to best meet its customers' needs.
The latter can subscribe a single contract for any kind of good or service.
There are many operating lease services available, especially at financial level, such as a full pay out operating lease, an operating lease with technology renewal, a financial lease, end user loans, stock loans, credit transfer, sub-lease, public administration management.
The reseller may benefit from the supplier's dedicated team, providing advice on choosing the best solution for their customers, and a streamlined bureaucratic management to access the products and services offered, and also to manage the contracts stipulated with its customers.
Esprinet's offer and the EspriRent service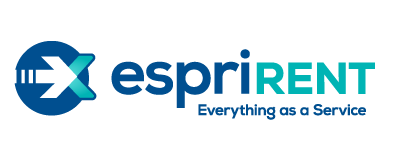 Esprinet offers its resellers an innovative and efficient technological leasing service through its EspriRent platform.
With EspriRent, resellers can find the best solution for their customers, both in terms of available products and solutions, and in terms of financial product, with the best dedicated fee.
On Esprinet's EspriRent platform, paperwork is no longer an issue. You can manage all financed contracts in a simple way, with a readily-available support team.
This is an innovative method to sell technology, ensuring the right flexibility to adapt to the needs of end customers.
For resellers, this means having access to a broad catalogue of updated technologies, from the best international vendors, The best technology from the best brands, through a single contract ensuring a complete service, also in terms of support and installation.
A cost-effective, high-performing choice for companies
There are many advantages in trusting a platform such as EspriRent for the operating lease of instrumental assets.
Esprinet provides its resellers with an operating lease service model that significantly streamlines the adoption of updated and best-performing hardware and software for their customers, significantly reducing costs, both for resellers and for end users.