Waste disposal and sorting at the office: how to make offices more sustainable
Making an office sustainable is an important goal to pursue. It all comes down to adopting behaviours and solutions that can help to protect the environment, reducing consumption and waste.
Everyone can help to implement a sustainable development, from small to large companies and offices.
There are many small things that can be done to promote sustainability, which also increase the efficiency of a company, and reduce the costs sustained.
Also, a sustainable company significantly increases its reputation with customers and suppliers.
One of the aspects where corporate environmental sustainability works best is waste sorting and disposal.
Let's see how to sort waste at the office effectively.
Waste sorting at the office
Waste sorting at the office should be construed as an investment.
First of all, if not sorted correctly, waste represents a considerable cost for an office.
In this regard, Legislative Decree no. 152 of 3 April 2006 sets forth specific provisions for employers to collect and sort waste responsibly, respecting people and the environment, and providing all the necessary tools to their employees.
Also, employers are required to raise their employees' awareness on the importance of waste sorting to protect the environment.
Any work place, from small offices to big companies, produces different kinds of waste every day, and they must be collected and disposed of correctly. To this end, a waste audit is required to assess what kind of waste is produced, in what quantities, in order to implement an effective collection and sorting system, and avoiding any fines.
What kind of waste is there at the office and how to manage it
Usually, an office generates large amounts of waste to be sorted in different categories, such as: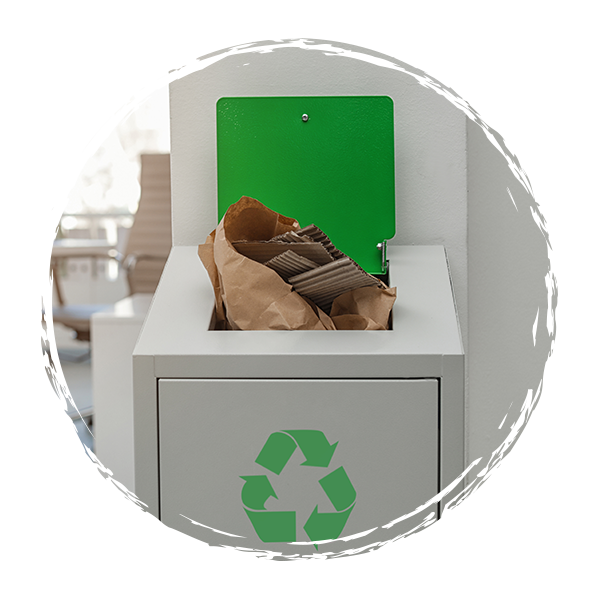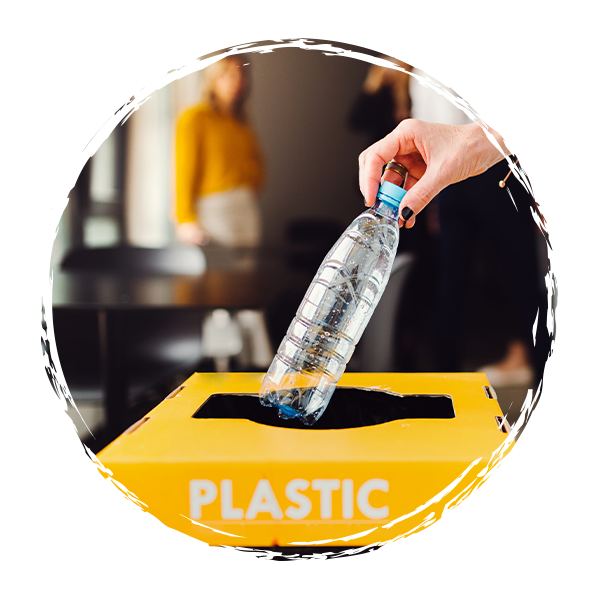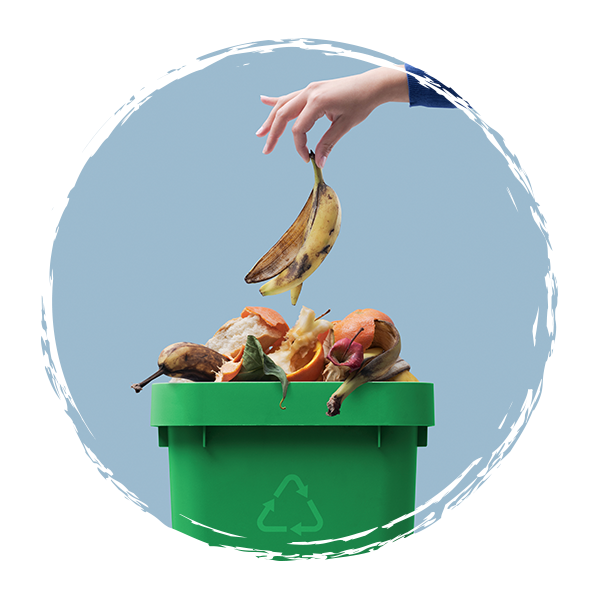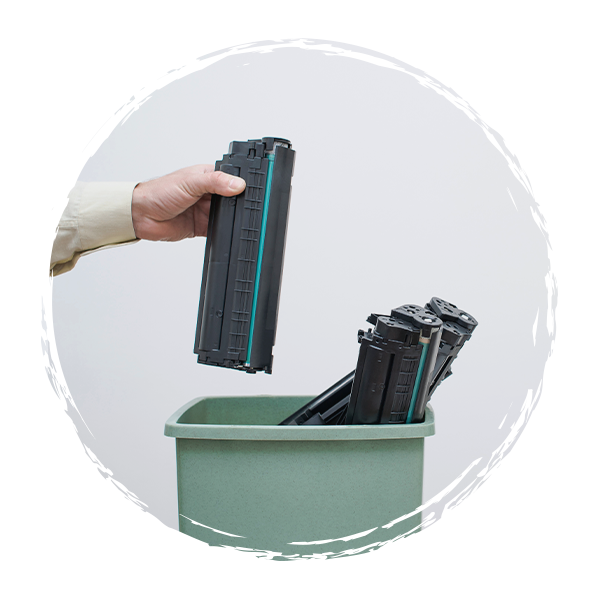 printer cartridges and toners
All this waste should be managed in separate containers.
Paper and cardboard, despite the expanding digitalization, still take up important volumes in an office. On the other hand, this is the quintessential recyclable material, since it can be recycled up to 7 times. For this reason, it is crucial to dispose of it correctly, into specific containers.
First of all, you should remove any basket under the desks, to avoid throwing away different kinds of waste together. It is best to set up specific paper and cardboard bins in common spaces or in the hallway. These containers can be lined with kraft paper, which is resistant and also completely recycled.
Another kind of waste with a big volume in the office is plastic, used for water bottles, bags and packaging. Plastic should be collected carefully and sorted, into special containers, checking that it is not mixed with other materials.
If not recycled correctly, plastic is perhaps one of the most hazardous kinds of waste for the environment, albeit it is also, in many cases, an easily replaceable material. This is why you should encourage your employees to use reusable containers and bottles, with the aim of reducing plastic accumulation.
Then, there is food waste resulting from lunch or snack breaks. A good practice is to allow food consumption only in specific parts of the office - break areas - and place containers to collect organic waste there. If the office is big, a good idea is to have a small composting system, which significantly reduces disposal costs.
A special kind of waste produced in offices is printer cartridges and toners. This waste should never be mixed with other waste, and it should always be managed separately. Legislative Decree no. 152 of 2006 defines toners and cartridges as special non-hazardous waste, classified as RAEE (Waste from Electric and Electronic Equipment), because they contain hazardous substances for people and for the environment. They should be placed in special containers and stored until a specialized waste management companies collects them.
Then, there are many kinds of waste that fall into the unsorted category. A sustainable office should choose different, eco-friendly materials to reduce the build up of unsorted waste down to a minimum.
Tips to make waste sorting at the office more efficient

First of all, an effective waste sorting process at the office must be established by a corporate directive, but it also requires the collaboration of all employees.
Everyone should set a good example, from executives to collaborators, to the cleaning agency working at the office.
Making your employees responsible from an environmental standpoint has also a good image return and a positive impact on the value assigned to employees, and at economic level, by reducing costs and waste.
From a practical standpoint, waste sorting containers should be easy to locate and accessible, to facilitate their use, both in work areas and in break areas, near vending machines.
Similarly, paper containers should be located near printers. However, you should remember that certain types of paper and cardboard - such as pizza containers and receipts - are made of non-recyclable paper, and they should be disposed of as unsorted waste.
A good habit concerning all kinds of recyclable waste is cleaning and crushing them to reduce their volume, and thus facilitating the work of compacting machines and avoiding filling up the containers too quickly.
Even better, there are multi-compartment bins with different bags, which must be properly signalled. The goal is for waste sorting to become completely normal.
Esprinet is at the forefront of corporate environmental sustainability
We have seen how small measures can bring great benefits in terms of waste sorting, in order to make the office sustainable.
On this, Esprinet is a cutting-edge company.
The group is constantly committed to creating sustainable value over time, both by acknowledging the interests of its shareholders, and of the other stakeholders, such as suppliers, customers, employees and local associations.
Esprinet defines specific and numerically measurable targets in its path toward office sustainability.
Find out Esprinet initiatives in terms of corporate sustainability.